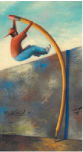 Thank you for your support of the Burton Book Fund, which has provided over 4,000 foster youth in California with $1.1 million in text books. This year, we are delighted to announce that all donations up to $25,000 will be matched by the California Hospital Association. A special thank you to John Garcia, Donna Lucas and Kathy Van Osten who are the event hosts.
Individual donations are $250 and event sponsorship is $500. Donations of all levels are welcome and appreciated.
After you donate, you will receive a receipt for your tax-deductible donation. The John Burton Foundation is a 501(c)3 non-profit corporation. If you have any questions about the event or your donation, please contact Martha Joseph at 415-348-0011 or at martha@johnburtonfoundation.org
Thank you very much for your support of this important effort. We hope you are able to join us for the Book Fund event on August 16th!
Event Information:
Tuesday, August 16th
5:30 to 7:00 p.m.
Esquire Building
1215 K Street
Sacramento, CA
Donate to John Burton Foundation for Children Without Homes
Is my donation and credit card info secure?
Yes, the security and confidentiality of your information is our highest priority. We will not sell, trade or share your personal information with anyone else, nor send donor mailings on behalf of other organizations, and we will only share personal information if you have given us specific permission to do so.
Is my donation tax deductible?
Yes, we are a 501(c)(3) public charity recognized by the IRS. Your donation is tax-deductible to the fullest extent permissible by law.
How do I know that my donation was made successfully?
You will receive an emailed receipt immediately after your donation is submitted and your credit card is processed. Your donation will also show up on your bank or card statement within 1-3 business days.
Do I get a receipt?
Yes, a receipt is sent to your email inbox once your donation is processed. Please be sure to keep a copy of your receipt for tax purposes. If you select a recurring donation, you will be sent an individual receipt each period when your donation is processed.
Is my donation private?
We will not share or sell a donor's personal information with anyone else, nor send donor mailings on behalf of other organizations.